A Clothing label is defined as a small piece of fabric, paper, or similar clothing material attached to clothing internally or externally on different parts of clothing and provides information or instruction printed, weaved, symbolized, or written on it about the garments.
Clothing label displays diverse information such as Brand name, Country of origin, Fabric specification & composition, Yarn details, Clothing size, Clothing wash care instruction, Contact information, etc. depending on the type of labels.
There are a variety of labels used in clothing. Primarily, clothing labels can be divided into 2 types based on the materials are used to produce them and the applications of the labels:
Woven Label &
Printed label
There are multiple variations of Woven labels & Printed Labels based on the materials & applications in different parts of clothing.
Woven Label
Main label / Brand label
Made in label
Size Label
Flag label
Printed label

Main Label / Brand label
Care Label
Price Label / Hang Tag
Composition label
The image shown below can get you a complete idea of the types of different clothing labels.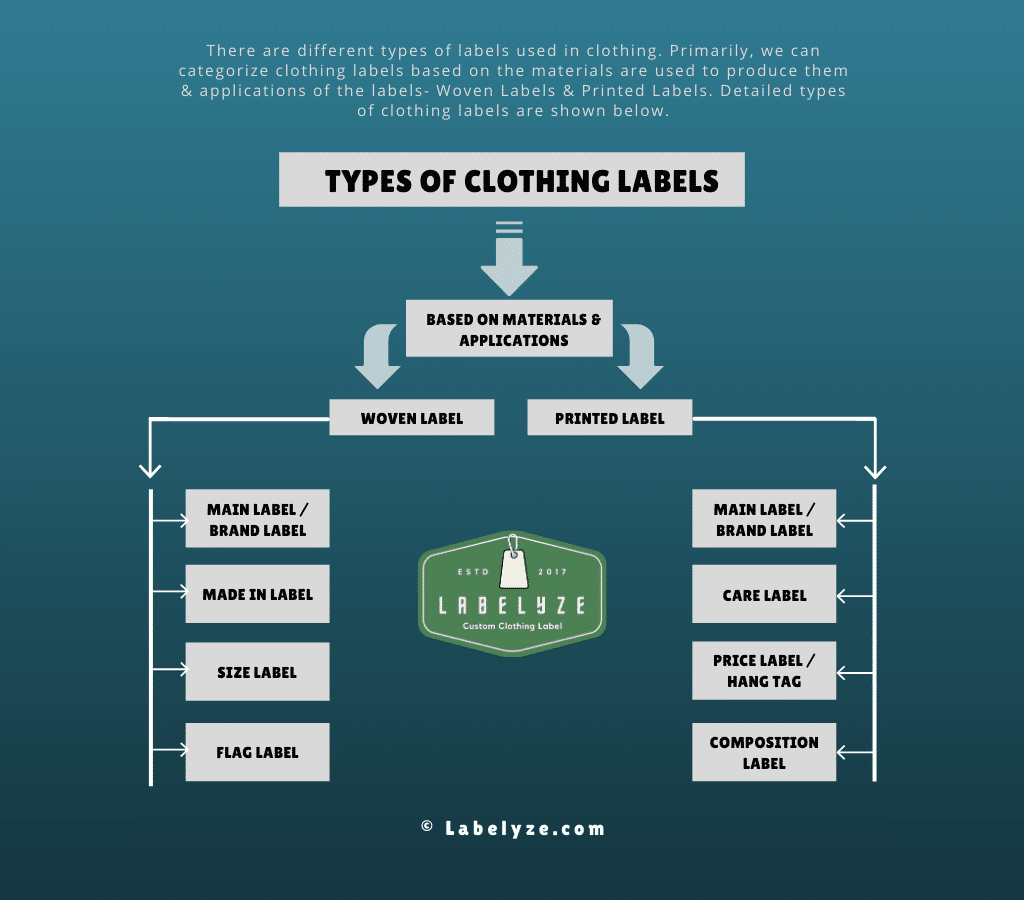 Difference between Woven Label and Printed Label

Woven labels are made of polyester thread that is weaved into a jacquard loom woven label weaving machine. Woven label is considered as the standard label for high-quality garments as well as a widely used label in clothing industries.
Advantages of Woven Labels:
Soft feel against the skin
Durable & Long-lasting
Textured products
Won't Fade
Professional look
Disadvantages of Woven Labels:
Doesn't suit all style
Limitations on detailed design & color
The cost is a bit higher than the print label

Printed labels are made of either Satin, Cotton, or Tyvek which can be used for a variety of applications. Printed labels are the best option if you have designs with small details with more color variations, gradients, shades, etc. It comes at a cheaper price. So, if you are looking for an economical option, Printed labels would be the best fit for you.
Advantages of Printed Labels:
Silky & soft to the touch
Durable & smooth finishing
Posh feeling
Detailed design and color
Cheaper price
Disadvantages of Printed Labels:
Printing might fade over time
A bit uncomfortable
Not as long-lasting as woven label
There are various types of woven labels based on their applications in clothing. A brief description is given below:
Main Label / Brand Label: The main label represents your clothing brand identity which is also known as Brand Label. It may contain your Brand name or Brand logo to showcase a clear vision of your brand appearance. That's why the main label is the most essential part of your business branding since main labels push customer's psychology to purchase a branded product rather than a non-branded one.
Made in Label: Made in Label is used to display the country of origin of clothing.

Size Label: This is a mandatory label for any garment. Whether your product is non-branded or branded, you must use the size label to indicate the size of any specific clothing. There are

variations

in size labels

for different age levels and regions.
Flag Label: Flag label is an additional logo label that is usually sewn in the side seam of the bottom part of clothing.
Printed labels can be of different types too based on their applications in clothing.
Main Label / Brand Label: Printed label can also be a Main label to portray your brand. It is a budget-friendly option.
Care Label: Care label is one of the most important things in clothing. It displays clothing care instructions such as Washing, Bleaching, Drying, Laundering, and Ironing, etc. Care instructions are printed on satin or paper which we name as care label.

Price Label / Hang Tag: A price label is a necessary part of clothing accessories. Basically, it is known as Hang Tags which is made with paper & attached with a string on the external part of clothing. It displays the price of clothing along with Logo branding, barcodes and company information, etc. printed on it.
Composition Label: A composition label is used inside clothing to display the Fabrication details & their Composition percentage.
Price of Different Types of Clothing Labels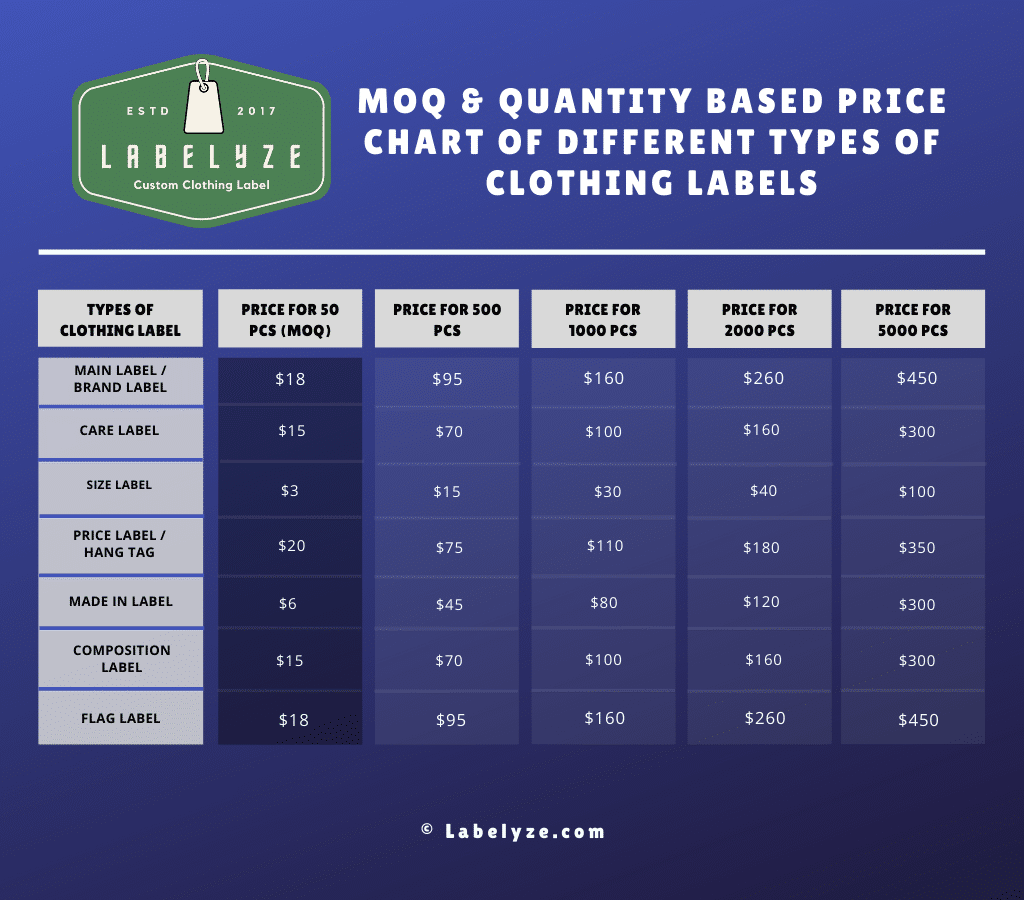 Woven Labels are better than printed labels if you want a professional & longer-lasting main label. On the other hand, Printed labels are a good option if you are on a budget. Few types of labels can only be printed and can not be woven. Note that, whichever label you go for, do the research, designing & planning in advance. It's time-saving and time is money. We have an entire in-house experienced design team to assist you to make your custom design completely free of cost!